Your Real Estate Ally
I am ready to help you achieve your home buying and selling goals.
Nerene Merlino
Your Real Estate Ally!
Nerene brings a multifaceted understanding of the real estate industry equipped with unparalleled commitment to service.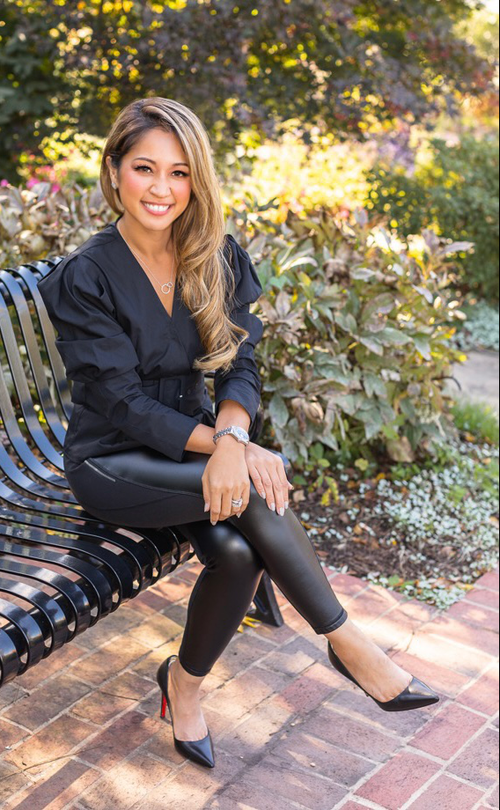 Dedicated to an honest and friendly service.
As a dedicated professional, I am constantly seeking ways to understand and prioritize your unique goals and objectives. I am committed to exploring every avenue and identifying the most advantageous opportunities for you, rather than simply settling for the most expedient option. To me, you are not simply a client, but rather a valued partner in the process of achieving your objectives. I am eager to work closely with you to ensure that your needs are met, and your goals are achieved.
Let's grab a coffee and talk about your goals

"Nerene is an absolute gem to work with! We couldn't have asked for a better realtor than her. As first time homebuyers, my wife and I really didn't know where to begin in our search of a home. It was so overwhelming, but Nerene walked us through every single step of the way with no problems. We never felt rushed at any point of the process and she
…
Read More
was so patient and generous with her time! Nerene answered every question we had at all hours of the day, and at times even hours on the phone if needed. Such amazing service! She was also honest, detail-oriented and communicative with us all throughout our home buying process. She was able to help us solidify our needs and wants in our first home, and represented us in all the areas we needed the most. You can just tell that she has many years of real estate experience but she communicated in such a simple and easy way that my wife and I really understood each step of the home buying process. Nerene helped us find and close on our home within just one month of working with her! We couldn't be happier with our purchase in this crazy market! ALL that to say - Nerene was simply AMAZING, RESPONSIVE, PROFESSIONAL and we were lucky to have her represent us. Everything you want in a realtor you get with Nerene and then some. She is genuinely a good person that wants to ultimately do a great job and make her clients happy. I would DEF recommend Nerene to all my friends and family!Outstanding A+++ HIGHLY HIGHLY RECOMMEND 10/10 Customer Service. We can't say enough seriously. We will definitely be using her again for sure."
Read Less

"My wife and I were ready to buy our first home and started working with Nerene based off of all the great word-of-mouth referrals we received. We were looking for not just any Real Estate Agent to help us but a Realtor that was willing to understand our unique needs in a home, our goals, and our life stage. Nerene went beyond our expectations, ke
…
Read More
pt us in the loop at every stage in the process, asked us questions we never thought of, and educated us about the home buying process and beyond. What we loved the most about Nerene was that she was patient with us as we searched for the right home and made our concerns also her concerns, communicating them to the sellers' agent and ensured that we weren't getting into just 'any' home but the right home in the right location that fit our needs and preferences. I highly recommend Nerene to buyers and sellers because of her very personalized service she offers."
Read Less

"We worked with Nerene to search for and purchase our first home, a very important milestone for my me and my husband. Nerene was a delight to work with during this process! She frequently makes herself available for quick conversations or to answer any questions. She was attentive to our needs in searching for a home with sufficient space and withi
…
Read More
n the budget we discussed. She frequently kept us updated and was always on top of things when a new potential property became available. Nerene displayed great professionalism while also being very personable and thoughtful during the process."
Read Less

"You are so helpful. Without your help and continuously assistance we cannot move forward of our buying process. You are very professional and supportive too. I would like to take this opportunity the express our strong appreciation and sincere thanks to you for your help throughout the process."

"Nereme she is amazing agent . Specially she work with ur work schedule & day & time always she give me opportunity to peak a time , place, & a date. And what make me amazed about her personality is she send email @4am between 6am , that be said she give me early in the morning to look everything she sand me . It's worth working with her & I am rea
…
Read More
dy to recommend her for others ….. keep up Nereme…..& thank you …."
Read Less

"Nerene helped my husband and I purchase our first home. As first time home buyers, she talked us through the process with incredible detail and ensured a seamless process. Even after the purchase of our home, she has helped us with some follow up questions we have. Would highly recommend for a first time home buyer."

"Nerene was fantastic! She was super knowledgeable, attentive to my needs/requests and made the whole process a breeze. I'd happily work with her again and would certainly recommend her to a friend."

"Nerene is a consummate professional and made my first experience buying a home a lot less stressful and confusing. She was always prepared to help me understand things better, respond to paperwork requests even at late hours, and generally move the process along quickly but optimally. I felt completely confident that she would handle every aspect o
…
Read More
f the process she was responsible for as well as possible, and I believe that is what happened. If I ever have any real estate dealings in the future I will not consider anyone else. Nerene was recommended to me by someone else she worked with several years ago and I perfectly understand why -- for the same reasons I'm recommending her here! Nerene is excellent at everything she does and helped guide me through a very stressful and unfamiliar process, while being diligent at every step. I cannot recommend Nerene highly enough and only regret that I can't her leave more than 5 stars. If you are considering buying a property yourself, whether you are a novice like me or quite familiar with it all, do yourself a favor and get in touch with Nerene! I could not be happier with how things went."
Read Less

"Nerene was amazing in helping me purchase my mom's condo! We beat out another offer and was able to win the bidding war. Nerene was keen on listening to what my mom needed for what would be a perfect home for her. With every step of the process, she thoroughly explained all the things I needed to do and was very patient in answering all of our q
…
Read More
uestions with our first purchase in Virginia. She responded quickly and efficiently to our concerns. Everything went very smoothly. She is well connected with local contractors and helped us to feel secure with our purchase. I would definitely recommend Nerene for anyone looking for a home to purchase in the DMV area."
Read Less

"Nerene is the best agent I've ever come across. She was very helpful throughout the process, walking with me every step of the way. She was patient and sincere in her advice, always looking out for my best interest. I highly recommend her!"
© Zillow, Inc., 2006-2016. Use is subject to Terms of Use What's a Zestimate?
Instant home valuation
Please find out the value of your home with our new home valuation tool. Get an estimate now. Get a free report of your home's value based on local comparables and current market conditions. It takes just 1-2 minutes!
Explore the latest market trends and listings.
Find out everything you need to know about our local home sales, schools, businesses, and more.
Helpful Advice
To keep up with the latest trends and changes in the real estate industry, it's important to actively look for and take in relevant information and advice.
Ready to talk about your goals?
I look forward to getting acquainted, answering your questions, and exceeding your expectations!